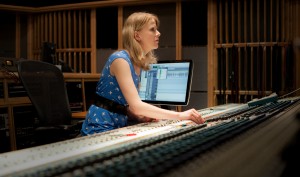 Born in Berlin, and fluent in German, Olga grew up in Germany and Scotland, before moving South to complete a Tonmeister degree at Surrey University. An internship led to 10 years at AIR Studios, London, where she trained with some of the finest talents in engineering and production, working on records for Coldplay, The Foo Fighters and Muse, as well as film scores for top composers including  Hans Zimmer and Dario Marianelli. A particular highlight was assisting Sir George Martin on the last ever Beatles recording for the 2006 album, Love. In 2013  she joined the roster at AIR Management.

Olga spent most of 2013 engineering Coldplay's latest album, Ghost Stories, which went straight to the top of iTunes charts in 72 countries. The latter half of 2014 saw projects with Chris Martin, Ed Harcourt and Sophie Ellis-Bextor, and 2015 saw more work with Coldplay as well as mixing work for Danish artists Maria Hamer-Jenson and Asger Baden. She also continues to work on film and TV scores, and regularly works out of the top orchestral studios in London and Europe. Her decade of experience working with music to picture means she can run technically complex orchestral sessions efficiently and to tight schedules, and can translate composers' and directors' ideas effectively, whether for a scoring session in Lyndhurst Hall, or a mix in logic at a composer's home studio. Recent film-score clients include Oscar-winner, Stephen Warbeck, and Grammy-winner Lorne Balfe.
Olga was named Recording Engineer of the Year at the MPG awards 2016.